Music critic Piero Scaruffi wrote, "With just one album, Can pioneered several genres that would become popular in the 1990s: industrial music, noise-rock, trip-hop and post-rock."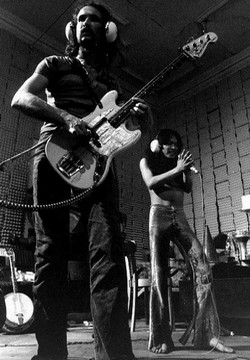 I would see the record covers at stores growing up as a teen, but had no idea what the band was going for. In magazines, many performers, groups, etc I loved would site Can, especially this release, as a major influence. When I was traveling through out mainland Europe six and seven years ago, friends would play their albums.
"You must hear them. They're simply amazing.." my friend Simon said."They're my all time favorite."
Tago Mago was Can's second LP. This record featured Kenji"Damo"Suzuki on vocals, which replaced Malcolm Mooney after he had a break down. It should also be noted that Tago Mago was recorded in castle Schloss Nörvenich in Cologne, Germany.
If you taken an interest or note to any of the music prior to this posting, you should do the same with this release/group. A definite favorite and still to this day refreshing to the ears.
Tago Mago
Part 1
Part 2
All songs written by Karoli, Czukay, Liebezeit, Schmidt and Suzuki
1. Paperhouse - 7:29
2. Mushroom - 4:08
3. Oh Yeah - 7:22
4. Halleluhwah – 18:32
5. Aumgn – 17:22
6. Peking O - 11:35
7. Bring Me Coffee or Tea - 6:47