Throbbing Gristle would have to be, in my opinion, one the best Industrial/Experimental groups ever to exist. Even if they started out as performance art, what they became was something very amazing and special.
Sure, others may care less about them. Often turned off by the mixed messages and imagery used live such as pornography and Nazi concentration camps, TG's purpose was actually to explore the darker side of human nature. The obsessive sides of human conditioning, rather than play pretty pop music. And, of course, this aesthetic gave them a notorious rep.
In highschool, a close friend of mine who was much into obscure and electronic music introduced me to them. He had a few cassettes and would play them often in his car during a late night some weekend. Always nice and disturbing.
Over time, I could see how TG influenced many groups to come. By improvising live, creating multiple versions of a "studio" song, prolonging songs beyond it's normal time frame to multiple live releases documenting their progression over the years like document files.
If you have never given TG a try, this is a good release to start to check out. A must have.
Best Of....Vol.1
Side A
Side B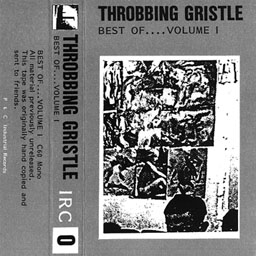 All songs by Genesis P-Orridge, Peter Christopherson, Cosey Fanni Tutti & Chris Carter
Side A
1. (untitled) - 1:13
2. (untitled) - 2:24
3. (untitled) - 0:56
4. (untitled) - 1:45
5. (untitled) - 15:37
6. (untitled) - 1:45
7. (untitled) - 1:13
8. (untitled) - 3:06
9. (untitled) - 1:13
10. (untitled) - 1:01
11. (untitled) - 9:09
12. (untitled) - 6:39
13. (untitled) - 0:27
Side B
1. (untitled) - 1:00
2. (untitled) - 0:40
3. (untitled) - 10:30
4. (untitled) - 1:13
5. Very Friendly (Part 1) - 11:55
6. Very Friendly (Part 2) - 10:13
7. We Hate You Little Girls - 2:47
8. We Hate You Little Girls - 2:50
9. American Magician Talking - 1:01
10. New Mama"/"Look Out Joe - 2:59